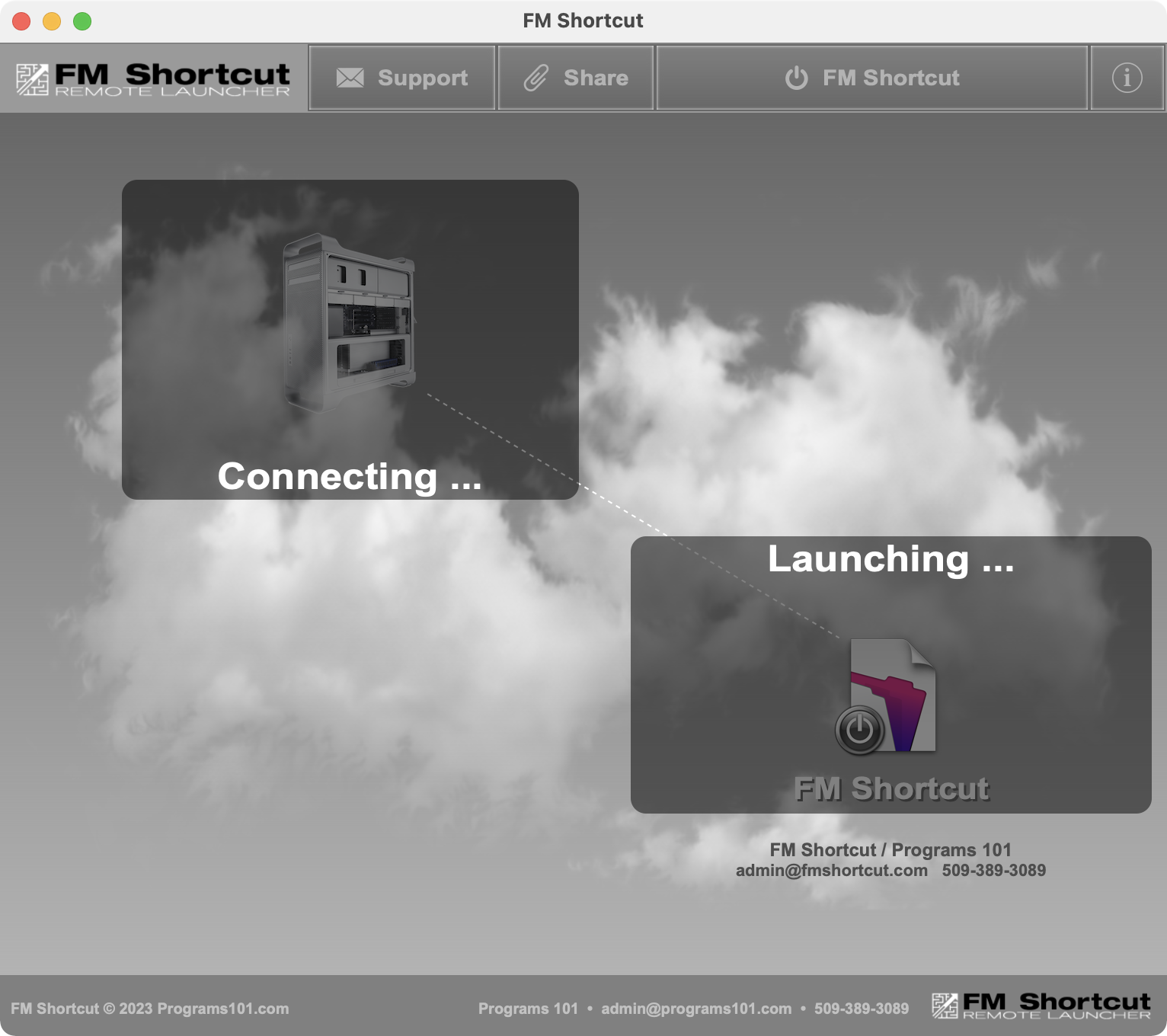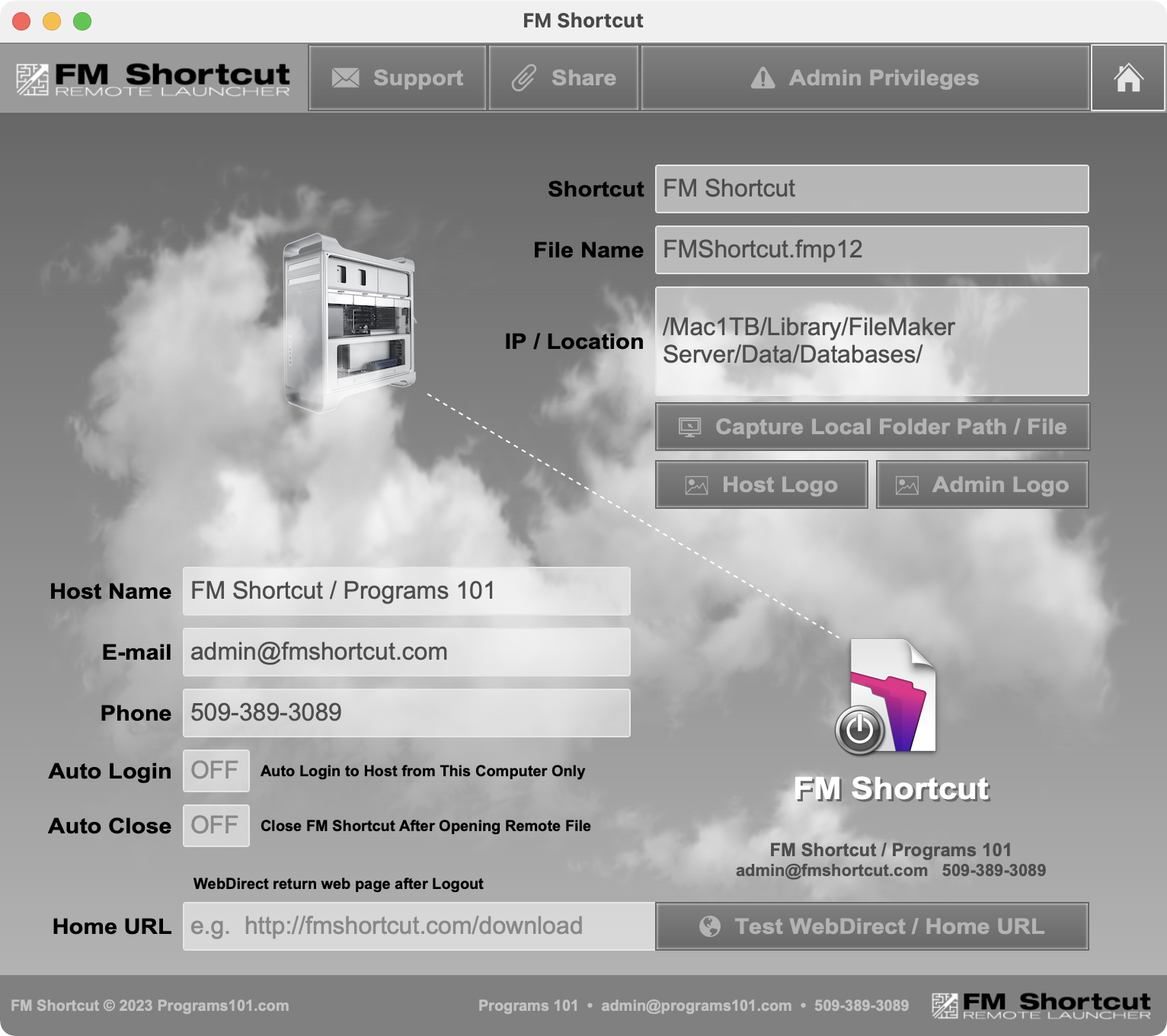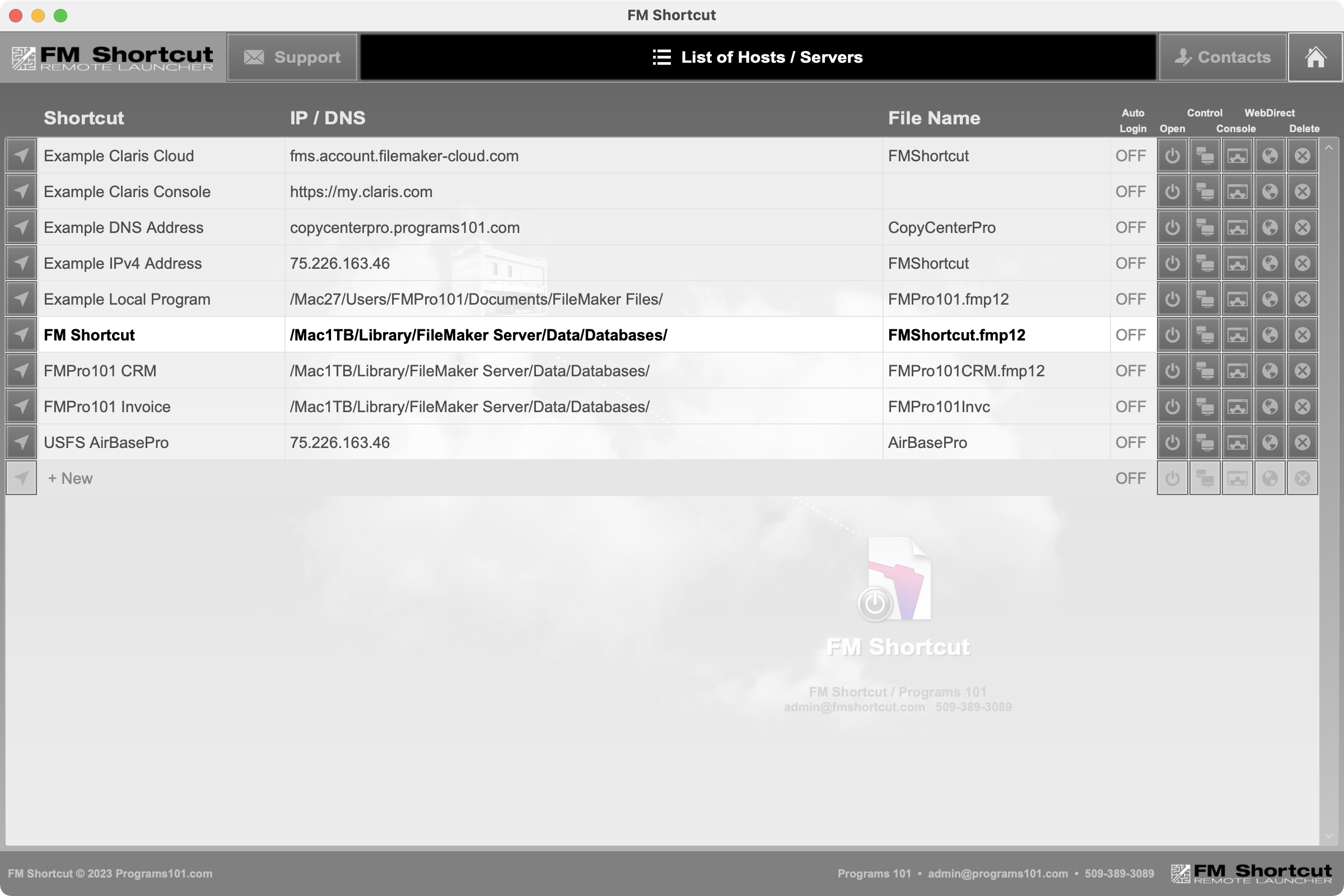 The ultimate Desktop Launcher for remote FileMaker programs
Saves server IP, host name, file path, file name, login. Great for teams. Includes server tools.
Have you ever wanted a simple desktop launcher for FileMaker files?

FM Shortcut is a FREE FileMaker tool designed to open local or remote FileMaker files plus manage multiple hosts, servers, admin consoles, files, contacts and correspondence. FM Shortcut works as a simple desktop launcher to save time opening remote files, but is also a powerful FileMaker management tool for professionals.

You can share FM Shortcut with users and staff to make opening your remote files foolproof. FM Shortcut saves valuable time for anyone who needs instant access to local or remote FileMaker files. Just enter your host location and file name once, and your desktop launcher is ready to provide one click access to your remote file anytime.

Personalize FM Shortcut so your clients and users see your name, e-mail, phone and logo.​ Tech support will be directed to your own e-mail. Customize the host contact information and launch logo to further enhance user experience.

The Auto Login feature makes it fast and easy to open FileMaker files without entering login credentials. Login Account and Password are saved in FM Shortcut for the source computer Only. No other computer can use the same launcher to open files or view the credentials.

FM Shortcut is your one source for all of your local and remote FileMaker files. You can automatically capture the fully qualified file path of any local file. There's no trial and error to enter a properly formatted file path regardless of where they are located on your computer. Just select the file and the file path is automatically captured.

Management features include a list of hosts to help administrators and developers manage multiple clients, servers, hosts and files. The list provides quick access to admin consoles, WebDirect URLs and remote control of host computers.

Built in contact management and correspondence helps manage clients, hosts and file sharing history. Contacts can be linked to hosts to organize clients, staff, hosted files and related correspondence.

Open FM Shortcut on your server to access online tools with the integrated web viewer to setup or troubleshoot host computers and FM Server. Check internet speed, IP address, open ports and more.

FM Shortcut is an indispensable tool for opening any FileMaker file quickly. Whether you just need a simple desktop launcher for a single remote file or you are a professional developer managing multiple clients and servers ... FM Shortcut can be an indispensable time saving tool for any user.