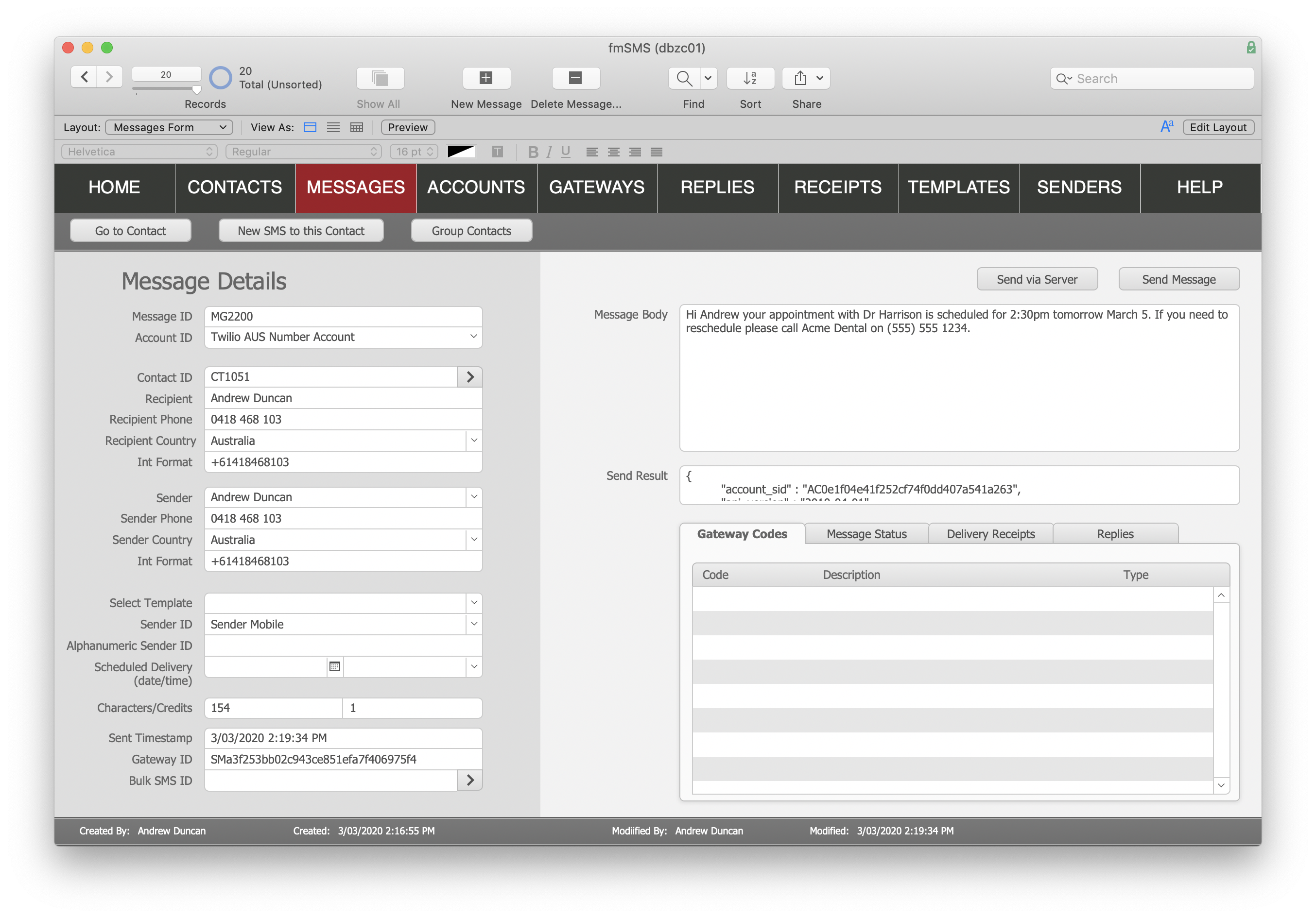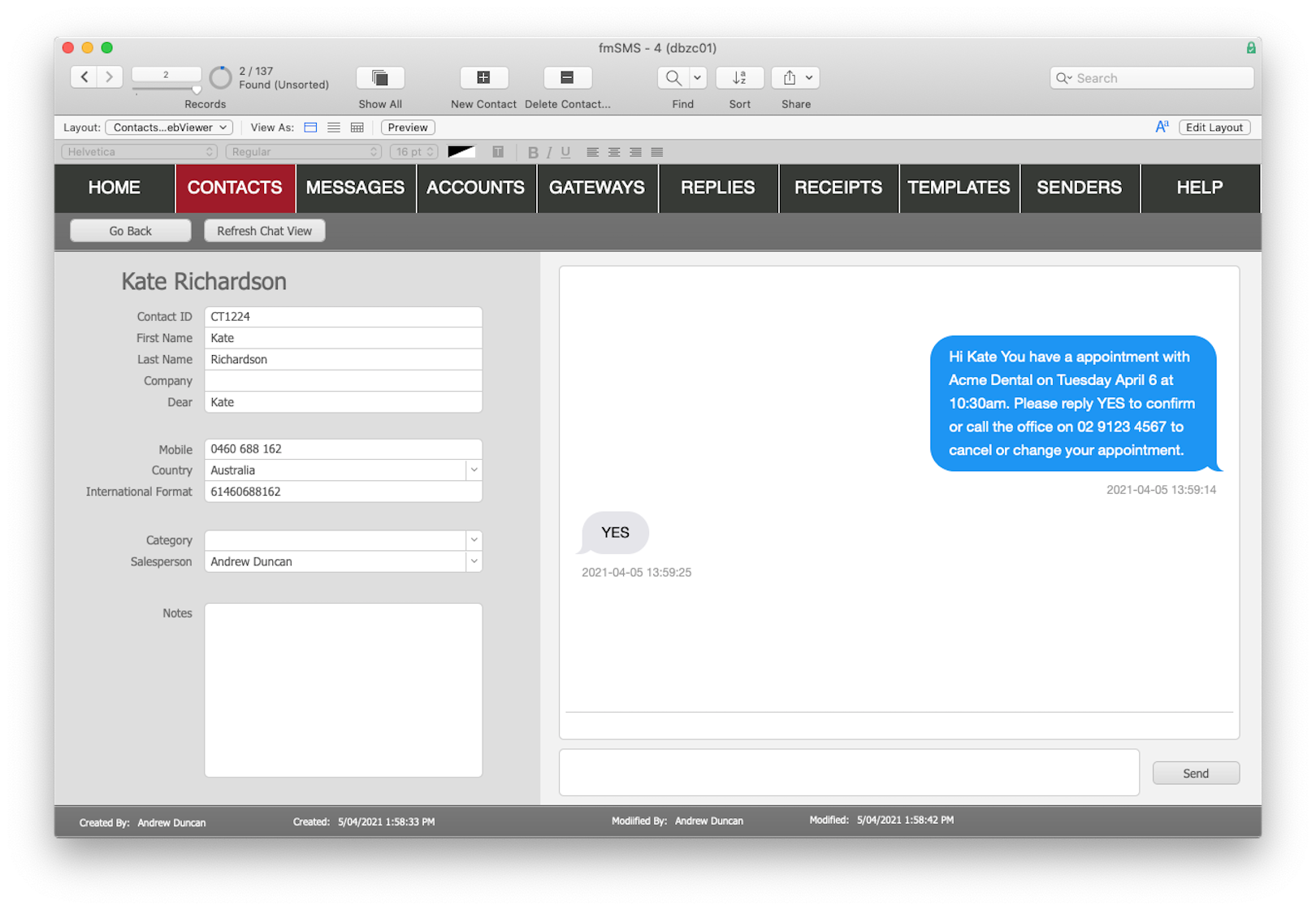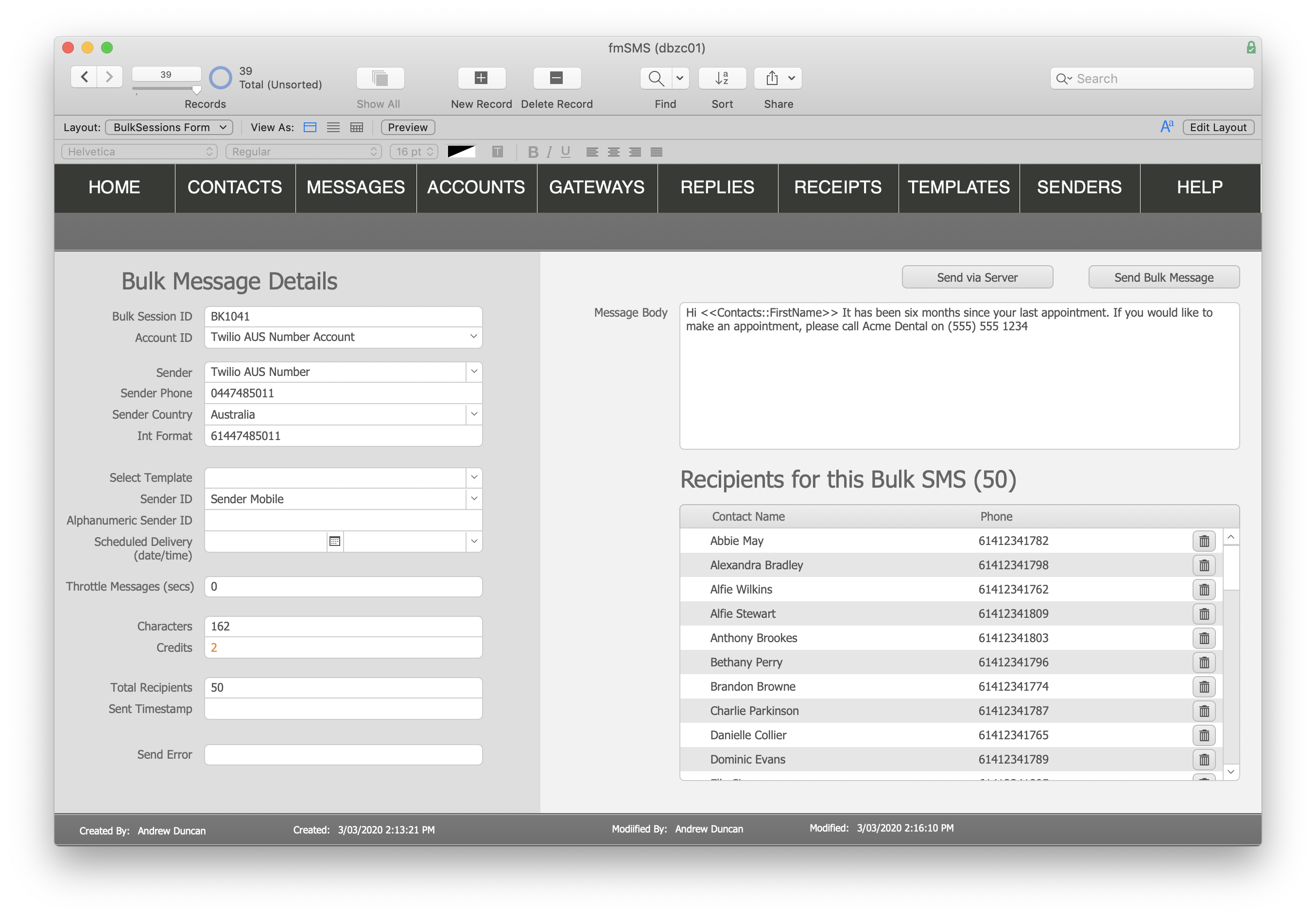 Send and Receive SMS Messages from the FileMaker Platform
fmSMS allows you to send and receive SMS messages using the FileMaker Platform.
fmSMS allows you to send an SMS from the FileMaker Platform to almost any mobile phone in the world via one of the supported SMS Gateways, reaching over 1,000 mobile networks in more than 220 countries. SMS is great means of direct communication with customers, staff, suppliers, and students.

SMS is perfect for appointment reminders, phone messages, promotions, segmented marketing, school absence alerts, and password confirmations. With SMS you can reduce your costs and play less "telephone tag".

fmSMS works with multiple SMS Gateway providers internationally and supports the following features:

• Send single and bulk SMS messages (messages are typically delivered in seconds)
• 2 Way SMS - allow recipients to reply to messages and have them appear in fmSMS
• Send long messages (greater than 160 characters)
• Works with over 50 SMS Gateway providers internationally
• Delayed Delivery - send a message now for delivery at a future time
• Alphanumeric Sender ID
• Delivery Receipts - track the status of sent messages
• Message Logging - track the history of all sent messages
• Message templates - create an unlimited number of pro forma templates
• Send Messages to WhatsApp Users using the Twilio API for WhatsApp

fmSMS is 100% unlocked for you to integrate into your own FileMaker solution.

(Not all SMS Gateways support all features of fmSMS)
What's New
Rewritten for FileMaker Pro v18 - now runs natively on FileMaker v16 or later and no longer requires a FileMaker plug-in. Updated to support the latest API for each supported SMS Gateway. Simplified the setup to make integration into existing solutions much faster and added support for receiving messages using the FileMaker Data API using FileMaker Server or FileMaker Cloud for AWS. Send Messages to WhatsApp Users using the Twilio API for WhatsApp. v4.3 added support for Otto and Claris Connect Webhooks.